| | |
| --- | --- |
| | |
| | No minimum order requirement.. |
| | |
| | |
| | |
Welcome to Udayana Silver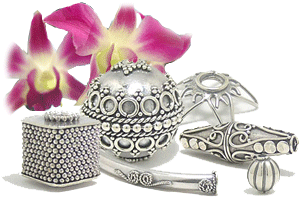 Online shop for wholesale Bali Silver Beads & Jewelry Findings direct from Bali, Indonesia.
We provide handcrafted Bali silver beads and jewelry findings which are suitable for any of your jewelry making needs.
Our quality wholesale Bali silver beads supplies are competitively priced. We encourage you to explore our selection of fine wholesale Bali silver beads and jewelry findings.
Please feel free to browse through our online catalogue to see the collection Bali beads, beads cap, silver toggles and clasps, silver spacers, harmony balls, vermeil 24k gold plated - vermeil beads, jewelry findings and pendants. All of our products are produced from .925 sterling silver by handmade Balinese artisans.


Bali beads and Bali silver jewelry is world famous for handmade Bali skilled people, hardworking and meticulous in every design style with a mix of particle and silver wire to produce a very beautiful unique sterling silver beads. Exact area Celuk - Gianyar - Bali where the center of the silver craftsmen in Bali. Almost 80% of the population living as silversmiths who have handed down from their ancestors.

Udayana silver beads are one of the many who sell via online shop that provides a variety of shapes and sizes at a reasonable price and with competitive shipping cost. look at our collection and make it part of your jewelry projects such as Bali beads, bead caps, silver toggles and clasps, bead spacers, silver findings, Bali vermeil 24k Gold plated, silver Jewelry.

Bali Silver Beads
Bali barrel and pipe beads, connectors, other beads shapes, plain beads, Bali round beads, small beads, square beads, stamp beads, filigree beads, brushed beads, large hole beads.
Bali Silver Caps
Bali silver cone caps, granulated silver caps, ornate caps, wired bead caps.
Bali Silver Findings
Bali silver chandeliers, silver charms and dangles, earring posts, silver earwires, silver headpins, rings, silver bails.
Bali Silver Toggles and Claps
Bali ornate toggles, twisted wire toggles, wired toggles, silver clasps, simple toggles.
Bali Silver Spacers
Flat spacer beads, granular spacer beads.
Bali Vermeil-24k Gold Plated
Vermeil wired bead caps, vermeil connectors, vermeil square beads, vermeil granulated caps, vermeil stamp beads, vermeil plain beads, vermeil other shapes, vermeil cone caps, vermeil round Bali beads, vermeil barrel and pipe beads, vermeil ornate caps.
Bali Silver Jewelry
Bali silver pendants, Bali harmony balls.
-----------------------------------------------------------------------------------------------------------